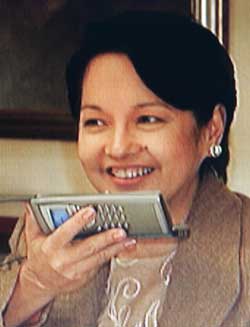 FIFTY CENTAVOS PER TEXT MY FOOT!
President Gloria Arroyo
dies, and as expected, goes straight to hell. There, she asks Satan if she could borrow his cellphone to send text messages to the 'first family,' anyway, thanks to her effort daw,
fifty centavos
na lang per text. Satan replies:
"Ay anak, pag demon to demons and vice-versa, libre ang text!
(Image from http://www.chinadaily.com/)