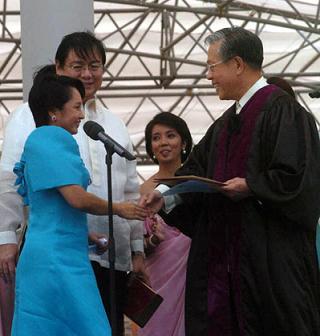 ILLEGITIMACY INC. (REVISITED)
A criminal act was committed against the
Filipino
people on
January 2001.
It is a continuing crime and we should be doing something about it. Injustice is only tolerable when the necessity to avoid a bigger injustice is. But a bigger evil, and not a smaller one, is likely to result if we fail to do something - anything. Distrust and disrespect of the
Supreme Court
can very well be total and absolute. Legislation would be a farce as long as the constitutional order and the
rule of law
is in total chaos. We have to put a closure to the wrongful acts of
2001
, if the
Constitution
and the
rule of law
are to function correctly again. Not anyone should ever be permitted to usurp power by misusing and abusing the
Constitution.


(Image from
http://ellentordesillas.com/
)