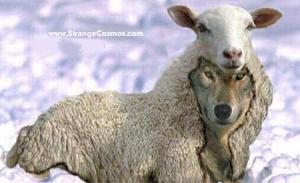 PROSPERITY WITH A DARK PURPOSE - PART XIII
"Confidence in an unfaithful man in time of trouble is like a broken tooth, and a foot out of joint." - Proverbs 25:19

"Throughout the world, error and truth travel the same highways, work in the same fields and factories, attend the same churches, fly the same planes and shop the same stores. So skilled is error at imitating the truth that the two are constantly being mistaken for each other. It takes a sharp eye these days to know which brother is Cain and which is Abel." - A. W. Tozer


Before I continue with the series, allow me to make myself clear lest my colleagues get the equal share of criticisms I have been getting, but just as well, I am grateful for the support of a bigger number of people who have been following these "prosperity" posts. Henceforth, everything I have written here is entirely on a personal opinion and account, and therefore does not necessarily reflect the opinions of my colleagues in ministry.

It's hard to imagine how one can run his race strong with "a foot out of joint" only because of his continued trust in a so-called 'life-coach' instead of a continued trust in the faithful life-giver. Before the inevitable church split, we consulted his accountability pastor, the same man he has repeatedly boasted of as one who he respects the most and follows his advice to the letter. One he would obey without question in the same way a loyal k-9 would obey his handler. But lo and behold, the very advice given by this accountability pastor of his was the very same advise he did not follow - and that is NOT to preach first without submitting himself for correction. And so, I am convinced to the letter as well that this man is acutely infected with the malady called Pastoral Narcissism. What does this mean? It is simply the state in which a pastor now believes he is the center of the universe and that accountability in all forms is a foreign concept, impervious to fault and openly hostile to examination and correction. This type of a leader is most likely to fall into extreme ego-trips. I won't be surprised at all if he talks to God - in front of a mirror, for he is a self-made man who worships his creator. And many of the people around him have somehow contributed to his narcissistic behavior because they simply did not correct it. I hate questioning your wisdom in dealing with this so-called pastor, but I am also reminded about what Edmund Burke said and it goes something like this: "It only takes good men to do nothing for evil to triumph." And so, now you have a man whose head is bigger than his whole body, and there is always a sure chance for him to repeat his sin, as many have said that there is indeed an underlying pattern in his errant behavior. That is also the reason why I abhor him using the name of the church which he does not have any association with anymore. He simply is misrepresenting himself, and fooling you his congregation. Unless again, you approve of it. So, to set things straight, I would suggest that he immediately take on another church name before he takes on another church woman to satisfy his lust, and bring shame to our name again, in the same manner he had already done recently. Let this also be a reminder that the church is not him, and he is not the church, and that not a single member of the board is with him. They are all with us. And so, using the same name must have the approval of the legitimate board, and you and I know the consequences in failing to do so on purpose. Legal or otherwise. Common sense is not common to you after all. And in all these, I have since believed firmly that it is better to be divided in truth than to be united in error, and it is better to speak the truth that hurts and then heals, than to speak the lie that comforts and then kills. For true preachers of God's Word do not ensnare His people with unknown revelations or esoteric insights of Scriptures, and then label "immature" those who would question such teachings. Some of the teachings you simply copied from Eugenio Isabelo Tomas Reyes Sanchez Jr., a.k.a. Bo Sanchez. Teachings like "How To Find Your One True Love." Sad, but you couldn't even find your one true material to use for your training sessions. You have to "borrow" from other sources. It looks like you were nowhere to be found when God was giving out originality. On the other hand, you carried away more than your hands could contain when the enemy was distributing hypocrisy. Try having "quiet time" with God for a change, and then maybe He will give you the wisdom you badly need. Shepherds are supposed to be wearing sandals, not rollerskates. Don't fast-track your ministry towards accomplishments and self-aggrandizements at the expense of people who still trust you, or you will surely end up derailed in all your endeavors. Before you start patting yourself on your back, ask someone to knock your head first with a hard-bound Jerusalem Bible. That should scare the bejesus out of you! Haven't you learned your lessons in life yet? That's what you get for not submitting to your accountability pastor. I have spoken to several wonderful and real shepherd-pastors who know you and know of you, and they are one in believing unanimously that you should just leave the ministry. And stop telling people you resigned. Tell them the truth that you were fired because of immorality and drunkenness. Do not contaminate any further the flock. For as the saying goes, "You can fool all of the people some the time, and some of the people all of the time, but you cannot fool all of the people all of the time." Allowing you in ministry is just like giving whiskey and the car keys to a teen-aged boy. Stop using someone else's church name (logo), and pull down the website. It's not good for people to think that you're still part of our church. Kahiya-hiya. And shame on you if you continue to use this name in your new theatre-venue. Magpakatotoo ka na. Ipakita mo na sa kanila ang tunay mong pagkatao. A Pachyderm-Pastor is what you truly are. Dati, nagalit ka sa pastor mo kasi kamo binira ka mula sa pulpito. Heto, ganun ka din pala, bumibira din ng padaplis sa pulpito! Dati, galit ka din sa dati mong pastor kasi kamo huli na siya kung bumisita sa may sakit. Heto, ganun ka din pala. Siguro, yung mga binibisita mong may sakit na malapit nang "kunin ni Lord" e hinihintay ka nalang dumating bago sila tumigok. Ang kaso, they can't hold their last breath forever while you take your sweet time. Kawawa naman sila, akalain mo, ikaw ang huling tao na makikita nila sa lupa bago sila sumalangit? What bad memories of Earth for them! And stop texting/inviting female youth members of a neighboring church. Sayang lang ang mga piso mo kada send. Ipunin mo na lang pambili mo ng pampalasing, di masaya ka pa. Wag ka na rin sanang magsinungaling. Sabihin mo ang totoo that you were fired and that you didn't really resign. Ang haba na siguro ng ilong mo, kasing haba na ng listahan ng mga taong may atraso ka. Mahiya ka naman. Aren't you ashamed of yourself for giving a bad name to all well-meaning pastors? Sinisira mo ang dangal nilang pangalan. Step down from the pulpit and bring back the respect and dignity to all pastors who have been affected directly and indirectly by your unrepented behavior. Pastors who have worked all their lives in ministry to achieve the nobility and respectability in their churches. My words are all too little and tame compared to what you have done to people - innocent victims they were. Vulnerable and all too trusting sheep. You should be present if and when that meeting day comes, because this really is all about you and all the trouble you have caused. Otherwise, let it now be said to all that flight is guilt - and cowardice, which now makes you a wolf with folded ears and a tucked-tail. And if you do not show up, I could very well end up saying, "I feel so miserable without you. It's almost like having you here."